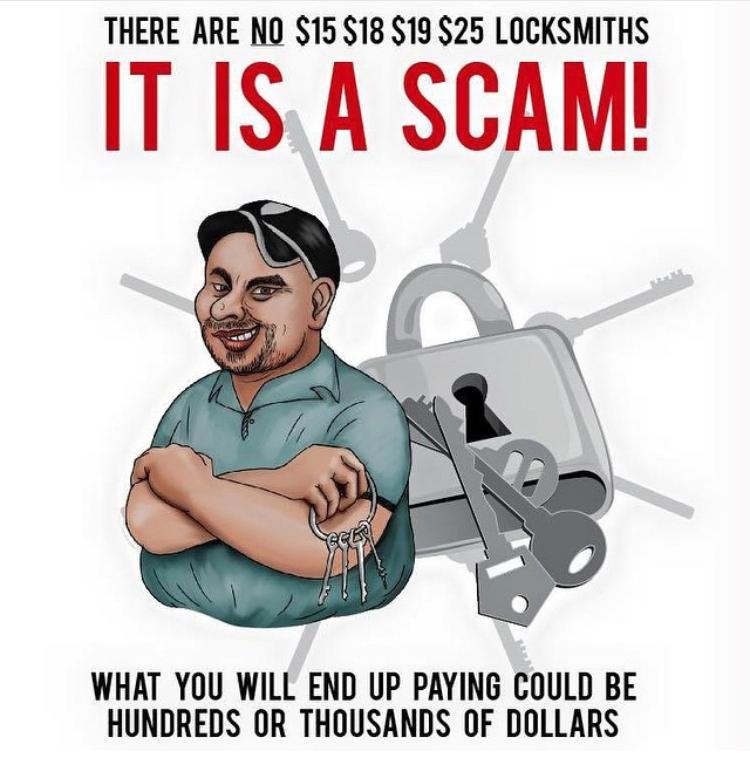 These companies purposely manipulate phone book and internet listings with multiple false addresses and phone numbers to make it seem like a neighborhood business. In actuality, consumers are calling out-of-state operations that are not locksmith companies.
The consumer is quoted a reasonable price over the phone, but when a person posing as a locksmith finishes the job, the consumer is charged a considerable amount more for unnecessary and/or sub-standard work. The complaint heard most often by consumers is for car openings. The price quoted over the phone to stranded motorist is around $45. When the individual arrives and unlocks the car, he hands the motorist a bill for $135 - $150. This unscrupulous individual tells the frustrated consumer that the $45 was just the service call and that it was another $90 - $100 for servicing the lock.  These out-of-state operations are set up solely to make money by purposely defrauding the public.
Not Familiar with Your Area

. To ensure that the company is local, make sure that they are familiar with your area of town.
"Locksmith Service." Unscrupulous individuals often operate under many business names/aliases. Thus, they must answer the phone with a generic phrase like, "locksmith service." If the call is answered this way, ask, "What is the legal name of your business."
Associated Locksmiths of America Inc. (ALOA). ALOA Logo. Does the Yellow Pages ad contain a logo that makes them appear to belong to ALOA? While many locksmiths do belong to the Association, some unscrupulous individuals trick the consumer by falsely using the ALOA logo. You can always check to see if in fact these businesses are members by calling ALOA, (800) 532-2562 or www.findalocksmith.com.
Unclear Business Name. Look closely at the ad(s). Is the specific name of the business clearly identified? Does it appear that the dealer actually operates under several names? If a Web address is listed, does the name on the Web site match the name on the ad?
"Under Same Ownership" This confusing statement, often found in small print at the bottom of a full-page ad in phone directories, give consumers a sense that the firm has been in business for awhile. The statement itself may be a warning sign that the company operates under several aliases. Also, the ad sometimes lists association memberships for organizations that do not exist, (i.e. American Locksmith Association).
Service Vehicle. Some legitimate locksmiths will work out of a car or unmarked van for quick jobs, but most will arrive in a service vehicle – a van or truck that is clearly marked.
Identity. A legitimate locksmith should ask for identity and some form of proof that you have the authority to allow the unlocking to be done. You have the right to ask for the locksmith's identification as well. Does he have a business card? Does he have an invoice or bill with the company name printed on it? Does it match the name on the service vehicle?
Estimate. Find out what the work will cost before you authorize it. Never sign a blank form authorizing work.
Invoice. Insist on an itemized invoice. You can't dispute a charge without proof of how much you paid and what the payment was for.
Refuse. If you are not comfortable with the service provider, you can, and should, refuse to work with the locksmith.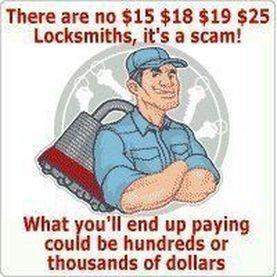 Check for a valid state license number . The states that have licensing for locksmith services ( AL,CA, IL, LA, NJ, NC, OK, OR, TN and TX ) may require the licensed locksmith company to include a state license number on their vehicles, advertising, and all paperwork. If your state requires licensing, then the technician must show you his/her identity card, which is a good indicator of legitimacy. These licensed locksmiths and their companies have been investigated by the state and found free of criminal activity in their past, and are required to have current valid liability insurance policies in force. States with a licensing law typically have a consumer protection hotline number to call and a mailing address for complaints to be sent to. Do not pay anyone that will not provide you with this information. If your state does not have a licensing law to protect you, ask your legislator for that protection.