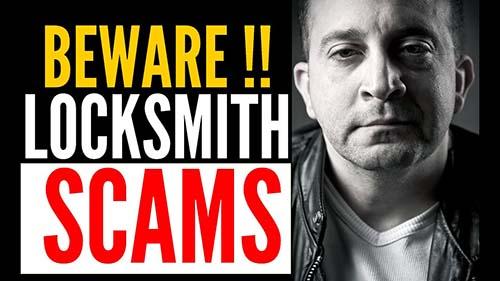 In an ideal world, you would research local locksmith companies and program a reputable one into your phone in case of future emergencies. The side of the road just isn't the best place for checking out different companies, reading up on customer reviews, and verifying ALOA (Associated Locksmiths of America) membership. However, if you're locked out and have no choice but to resort to the internet listings,  heed these warning signs so that you don't fall for a locksmith scam. Locksmith scams are common all over the country, including in Portland, Oregon.
Number 1: Beware of Locksmiths on the internet who use paid Ads.
Locksmith scammers spend a fortune on internet advertising to make sure their business is one of the first 3 ads that come up. Scammers have the money to do this because they bait consumers with low rates and charge 10 or 20 times what reputable locksmiths charge. None of the reputable locksmiths in Atlanta use paid ads – not one!
Number 2: The locksmith company answers the phone without saying the company name.
Disreputable locksmiths use many false business names, addresses, and phone numbers that all feed into one remote call centers. Because there are so many different company names, the person answering your call may only say, "Locksmith." 
Number 3: Conspicuously low quotes over the phone or in an ad.
It's a classic bait and switch: a dishonest locksmith company offers you what seems like a great quote so you agree to the service. When the locksmith actually comes out, the initial quote turns out to cover the service call only. The actual labor adds on another $100-$200 (or even more if the locksmith sells you on unnecessary services). If you sense any evasiveness when you ask about pricing on the phone, trust your instincts and try another Atlanta locksmith that offers firm quotes. Written quotes are even better.
Number 4: Locksmiths who show up in unmarked cars.
An unmarked car is a major red flag that you could be dealing with an untrustworthy locksmith. Shady locksmith companies use out of state call centers but hire local contractors who are often poorly trained, unequipped, and uninsured. An inexperienced technician can cause serious damage to your locks, doors, and windows. A local locksmith company in Atlanta that provides its technicians with tools, uniforms, and marked cars is a much better bet, not only because you're likely to get better service, but also because you can hold them accountable if anything goes wrong.
Number 5: Locksmiths who talk up the price before the work starts.
Ask about pricing before a locksmith begins to work on your lock. If he's already tacking on additional fees, you know you're going to pay a lot more than you bargained for. Although you might be tempted to just go along with it, keep in mind that bad locksmiths can damage your locks and end up costing you even more money and time. It's not too late to dismiss this locksmith and call another.
Number 6: Locksmiths who want to drill your lock.
If you're locked out, be wary of locksmiths who recommend or insist on drilling or replacing the lock right away. Drilling is typically only needed to open Kwikset SmartKey or high-security locks. Most experienced locksmiths possess the skills and tools to unlock almost any door. It's true that there are cases in which your lock cannot be picked and must be drilled. However, this is the exception, not the rule.  If a locksmith works on your lock for only a few minutes before declaring that it has to be drilled, don't let him. Locksmith scammers are notorious for this.  Once your lock is drilled, you have to purchase a brand new one and the scammer will charge outrageous fees for the lock(s), installation, keys, etc.  We've heard stories of a simple lock pick turning into an $800.00+ bill!
Number 7: Look for a truly "local" locksmith.
The best way to know whether a locksmith is trustworthy is to research them in advance. Call them, ask them detailed questions and check their reviews. If you're in a hurry, be wary of locksmith companies that answer calls with generic phrases like "locksmith services," rather than a specific name. If a locksmith cannot or will not provide the business' legal name, find another locksmith. If you find a locksmith with a "local" address, search for that specific address online and see whether any other businesses use the same address. Ask the company when you call to confirm its location. Also, use extra scrutiny if a locksmith company uses an 800 number instead of a local phone number. It's often a sign you're dealing with an out-of-state call center.
Number 8: Check locksmith ID and licensure.
When the locksmith arrives, ask for identification, including a locksmith license where applicable. Only 15 states require locksmith licensing, making it a crime to advertise or work as a locksmith without proper credentials: Alabama, California, Connecticut, Illinois, Louisiana, Maryland, Nebraska, New Jersey, Nevada, North Carolina, Oklahoma, Oregon, Tennessee, Texas and Virginia. Be skeptical of locksmiths who claim to be licensed in states that don't require licensure. A legitimate locksmith should also ask you for identification to verify that they are unlocking a home or car that belongs to you. Use caution if the locksmith shows up in an unmarked vehicle, or one advertising a different business name than the company you hired.
Number 9: Ask the locksmith for a cost estimate.
Call center locksmiths typically quote prices between $15 and $39 to start. They bait-and-switch customers by advertising low prices, then price gouging after they arrive, claiming the job is more complicated and will cost more. The average locksmith service call costs at least $60 adding that prices in the $15 to $39 range are typically signs of a scam. "What the customer has to realize is, you're paying to get a locksmith shop at your home. And with that, there's a bit of overhead. A locksmith's fee pays for tools, any licensing costs, continued training and transportation to and from a job. No skilled or reputable locksmith that charges $15 for a job could remain in business. Get an estimate before any work begins, including emergency service.
Don't hire a locksmith who refuses to provide an estimate!
Number 10: Inquire about additional charges.
Ask about extra charges for things like emergency hours, mileage or service call minimums before you agree to have the work performed. The scammers might also claim the lock on your home or car is obsolete and needs to be replaced. They'll charge hundreds of dollars to replace the lock with what they claim is a high-security lock. But in reality, it's a cheap lock offering little protection. Reputable locksmiths should also be able to answer questions about the intended repair, including how they'll get into your car or home, and the cost of those services. If the locksmith refuses to answer your questions, hang up. This is a sign of someone who either doesn't know what they're doing, or plans to overcharge you for a job.
Number 11: Watch out for fluctuating bids.
If the locksmith's on-site price doesn't match the phone estimate, don't allow the work to be performed. Some locksmiths may demand payment after doing shoddy work or inflating the bill, and threaten to call the police or file a lawsuit if you don't comply. If that happens, call their bluff. Let them call the police, or offer to call for them. A reputable company won't drastically change a quoted price. The people who are making those threats generally have the most to lose, because they're not operating within the law, and their actions are not ethical. They're just bullying you!
Number 12: Questions to ask a locksmith before hiring.
Ask these questions before hiring a locksmith. If a business can't provide detailed answers, don't hire them.
Where are you located? • How will you get into the house?
Will you need to drill my lock?
Can you tell me the exact process?
Do you need a picture of the lock?
Can you give me an estimate?
What factors will cause this price to change?
Do you require cash, or can I pay with a check or credit card?
What's the name of the locksmith who will be coming?
If you think you've been overcharged or scammed by a locksmith, contact your state attorney general's office. Many state AG offices employ staff to mediate between customers and businesses. Some may also pursue litigation to recoup funds for victims.